Social media isn't for everyone, you can be an incredible marketer and just not have a passion for social media. Social media is merely a channel to market through, it remains one of the most powerful and least expensive channels for connecting with your members and future members. YMCA's that have momentum are engaging with their users.
First, this tip is an easy one…please do not ask your staff or your marketing office post things just to post them. If you want to pull the power plug out of your facebook page, put posts up that are not engaging, useful or relative. "Social media posting" falls under a marketing effort and marketing efforts should amplify the wonderful things that are happening in your association. Yet, your marketing person, may or may not be the perfect person(s) for creating great content. Capturing the excitement, have a passion for connecting to members at a ground level and being relevant is a tough task. I'd suggest taking inventory of your staff's social media presence as individuals. First, it's important that the values that they express outside of the Y world, align with the values within the Y world. Second, some individuals just have a knack for social media, they LOVE it. They see the potential for "going viral" as a challenge and you may be surprised at the reach and quality of content that your staff can produce on their own. When it comes to your Y, these people probably know the topics, classes, photos and videos that their participants (and your members) like to see. Your marketing person holds the control of the social media accounts and should be responsible for posting (and guiding) content, but choosing to not utilize staff content is like stepping over a pot of gold only to add more pressure to your marketing person. Let's do our best to engage those individuals.
Here is a tip regarding the social media subchannel of Facebook. It's important to know that you need followers on your Facebook page. As of this year, 2019, it's estimated that (on average) a little over 6% of your page followers will actually see a post. Besides creating more and more engaging content, that 6% is just a tough number to face. I try to use that as a positive thing and a very good reason to grow my follower base. If you have 500 followers you'll get about 30 views, yet if you have 10,000 followers, that's 600 views. There are a couple of ways to gain followers on Facebook, one being that you can run ads for followers, but I find that method terribly unsuccessful and very expensive. The second method, I've used for years with multiple companies and it works extremely well. First, you need a really, really engaging post. It doesn't have to be completely organic, feel free to "boost" the post to the appropriate audience (child sports to parents, etc.) to gain likes on your post. Here's the clutch part of this, once you have "likes" on your post rolling in, click on the number of likes below the post. As you can see in the image below.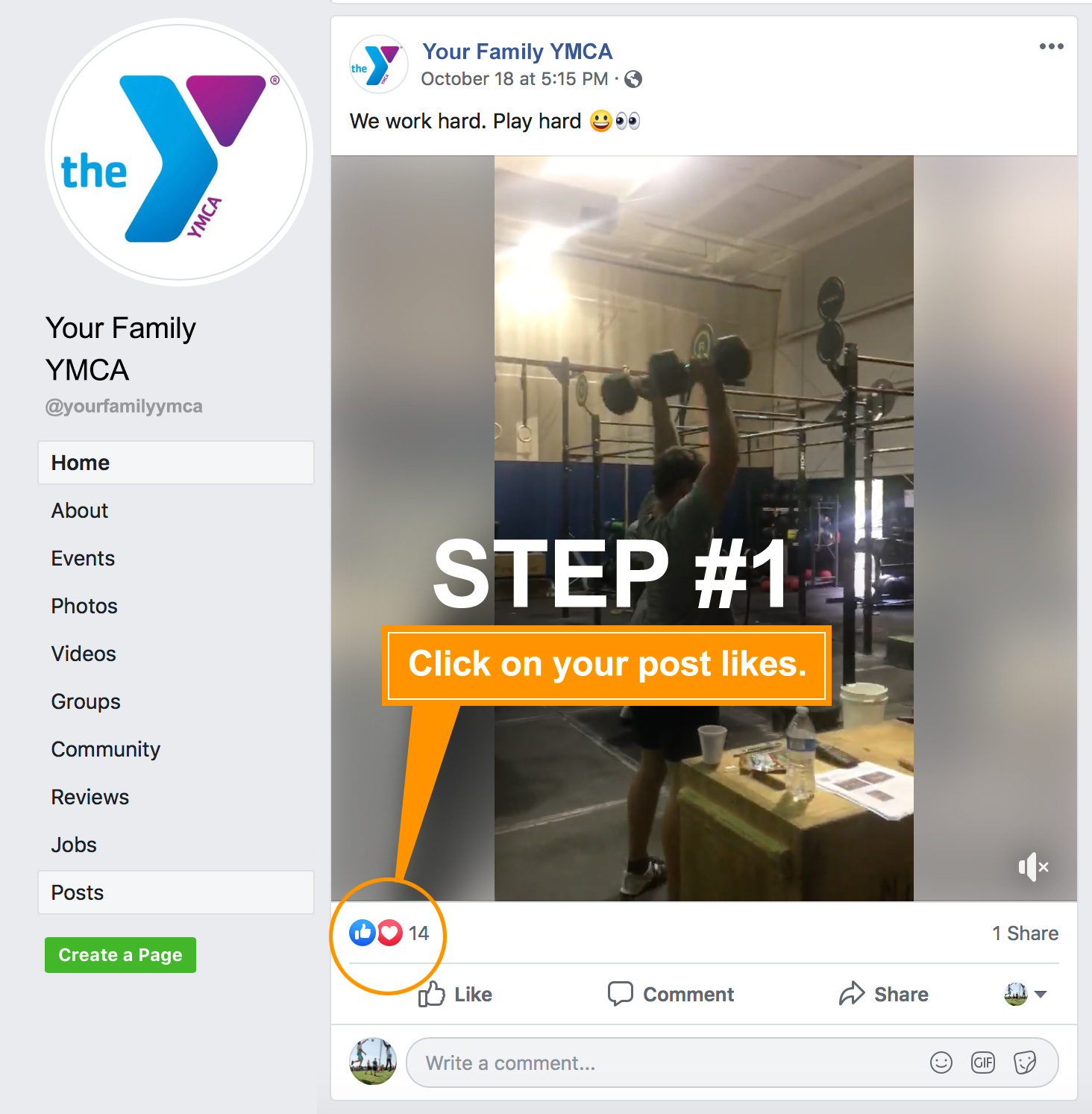 It's going to take you to a list view of the post "likers" and on this screen, you can click the invite button to invite each person to follow your facebook page. As you can see in the image below.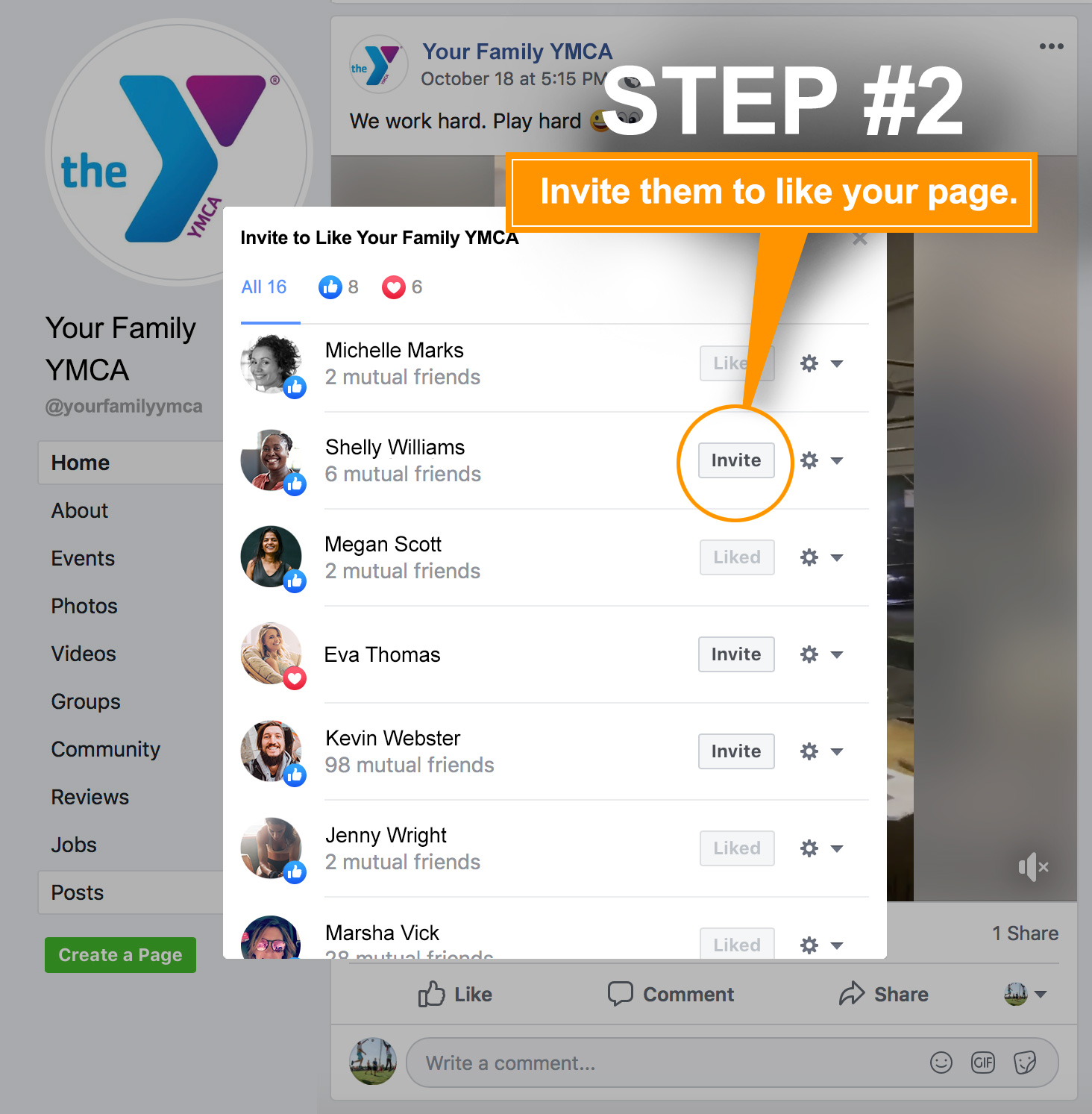 Some won't follow your page, but a surprising number will and it is a successful way to grow your audience. I'll warn you that you should take about 2-3 seconds between clicking to invite the post "likers." There was a time that I clicked them so fast that Facebook thought I was a "bot" and shut down my ability to use the tool until I had a long conversation with tech support convincing them that I was just a fast human. In conclusion, you will be amazed at how much an active, great quality social media presence will help your YMCA propel forward. Start today if you haven't and remember to have fun with it.